*sponsored post*
Air? the new oil???? hmmmmm...
for those of you who know me...i am quite the airfryer fan. it was one of the first few appliances that we bought for the new house even before we started the renovations(!!). there is so much to like about the appliance - cooking with little or no oil! Since then, i have also triggered enough interest in my mother-in-law who eventually got a set for herself too.
#truestory

Here's a picture of der carting home our airfryer, taken many, many moons ago.
I was really stoked when i was invited to the new Philips Avance XL Airfryer launch at Jewel Box some weeks back, along with a whole bunch of mummy bloggers and other trade partners!
The event venue was all decked up in blue & white balloons in the corporate colors of Philips. I like that there were pillars of balloons all over. i also like that the official hashtags are on the balloons, so easy to spot! i know right. Social media junkie is me.

i just had to post with them balloons. #PhilipsAirfryer
there was a photo wall where we could take pictures and what do bloggers do best? Take pictures. There was a constant queue for the props the whole night and here's a picture of me with
Estella
,
Mabel
and
Irene
.

Us, posing with our favourite food. ok, not exactly favourite since i dont really do junk food but the thought about having healthy french fries without it being oil fried kinda appeals. and yup, Mabel is being airfried!
Bryan Wong was our host for the night, and he's so full of wit and humour, my stomach was left aching after laughing non-stop. Can i also say he looks really good in real life? (Hee, i hope the husband isn't reading this!). Here, he is with Chef Dable in a cooking demonstration using the new Philips Avance XL Airfryer. Chef Dable is from Hong Kong and is owner and founder of the
facebook community "I Love Philips Airfryer"
. She shares her airfryer recipes in the community in hope to inspire others to create 'healthY, crispY, tastY and speedY' meals for their families.

Bryan & Chef Dable doing a cooking demonstration for a common Hong Kong restaurant dish - Crispy cuttlefish toast



food demonstration still in progress.



airfried cuttlefish toast all done! i took one to try and it tasted really crispy! *mega impressed*
well, i thought that was all to the event but i was so wrong! Bryan picked 2 people out from the audience for a masterchef cook off! Super exciting! One of them was mom blogger
Diana Gale
and we were all screaming and rooting for her. :)
Bryan Wong unveiling the secret ingredients for the masterchef cookoff! Well, there's prawns, longans and pineapples.. Hmmmmmmmm. Kinda tough, but the funny part was bryan was actually rattling off the winning recipe to cook but i doubt the contestants were paying attention.
The completed dishes!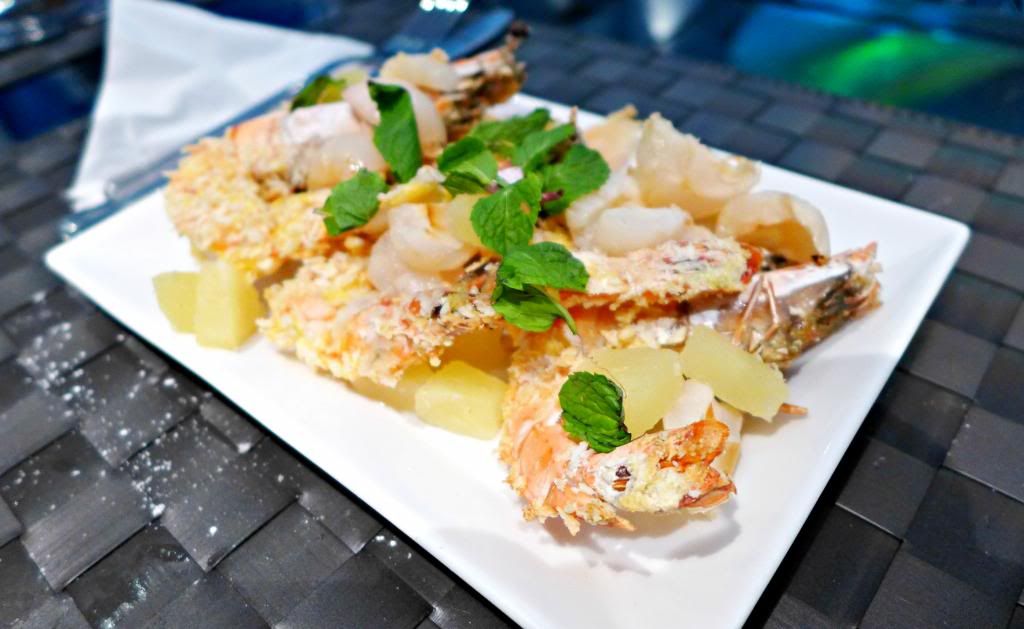 Dish by Diana! Looking really good!
(photo credit: sooddlydreamlike)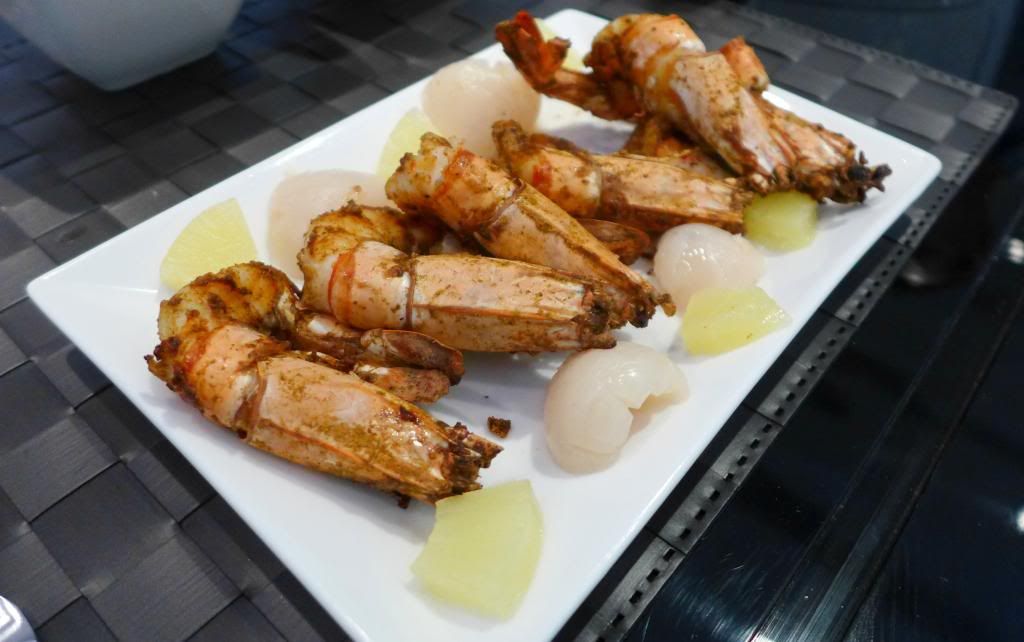 Dish by the other contestant, looking really yummy too!
(photo credit: sooddlydreamlike)



6 judges were busy judging the food... and the winner is...



Diana Gale! She wins herself a Philips Avance XL Airfryer! *envy max*
(photo credit: sooddlydreamlike)
While everyone else was busy chit-chatting and helping themselves to the buffet spread of yummy good food, i was busy drooling over the actual food cooked using the Philips Airfryer based on Chef Dable's recipes. They looked really good and tasted yummy (there were also butlers serving the same food) and can i say that i am super inspired?

Air-roasted Pina Cola Chicken (yes! you can cook a whole chicken with the new airfryer!)



Air-fried Cuttle Fish Toast (this was the one demonstrated earlier)



Air-gratinated eggplant au gratin (am so going to try cooking this cos i love eggplants!)



Air-grilled Italian Styled Tiger Prawns



and lastly, air-baked elegant banana cake.
Aren't they impressive? the options are quite limitless!
And of cos, i had to snap a picture with the handsome bryan wong. We managed to catch him before he left!

L to R: Estella, Mabel, Bryan Wong, myself, Irene & Adora (gingerbreadmum).
and here's the real STARS of the night. The 3 different models of the Philips Air Fryer.

L to R: Philips Digital Viva Airfryer (NEW!), Philips Avance XL Airfryer (NEW!) & Philips Viva Airfryer.
The last model is what i currently own, but i am soooooo lemming for a
Philips Avance XL Airfryer
now! The Philips Avance XL Airfryer has so much qualities to drool over. Here's some reasons why you should buy the Avance XL Airfryer instead.
1. It's
bigger with 1.2kg capacity
(up from the 800g from the viva range) which means i can cook more and feed up to 5 people.
2. It's has
digital touch screen
! How cool is this? No more dials to fumble over.
3. It's
30% faster
, which means cooking time is reduced and you can spend lesser time in the kitchen and more time bonding over the dining table.
4. It has
Smart Preset Button
. Just save the settings of your favourite dish and it saves you even more time when you cook it in the future.
5. It has
"Premium Easy Glide"
drawer. I really like this!
On the last point, i totally forgot to take a picture, but here's one picture that i hope can help explain what i was trying to say. In the viva collection, the airfryer drawer comes out entirely which makes handling a little harder since the drawer can be quite heavy. But in the Avance collection, you can lift up the handle together with the basket within (with your cooked food) and the drawer stays with the main unit. I thought it was a totally brilliant idea and it makes serving a lot easier. I wished i had a unit to take pictures to show you guys. I can't find any suitable pictures online to explain this better though, so try to imagine with me. Heh. Or pop by the electronics stores and check it out for yourself.

(Photo credit: Philips Communications)



Estella posing with the star of the night
The Avance XL Airfryer also boast of 5 cooking styles -
fry, grill, roast, bake and gratinate
! I always thought its only meant for frying so it was a great education for me (and now you, since you are reading this).

here's 3 happy girls at the event. we had loads of fun and thanks Philips Singapore for the invite!



Ending the post with this cute shot that i took of Estella & Irene, both taking selfies.
Cook with Air today! Quote
[cherieladie]
and buy the
Viva Digital Airfryer at $399
(Usual price: $459), FREE $50 SHOPPING VOUCHER and
Avance XL Airfryer at $479
(Usual price: $539), FREE $50 SHOPPING VOUCHER at the
PHILIPS EXPERIENCE SHOWROOM
. This promotion is valid from
1st December till 31st January 2014
.
Limited to 1 Airfryer per person. IC must be produced.
PHILIPS EXPERIENCE SHOWROOM
Address: 620A Lorong 1 Toa Payoh Building TP4 Level 1 S(319762)
Tel: 6882 5800
Opening hours: Monday to Friday: 9.00 am – 7.00 pm Saturday: 9.00 am – 1.00 pm. Closed on Sundays and Public Holidays.
The Viva Digital Airfryer and Avance XL Airfryer are also available at regular prices in leading electronics stores, department stores and supermarkets island-wide.
Disclaimer: I was invited to the event and this is a sponsored event post. All opinions & thoughts are my own.