it's been 6 years since i last did a
shape run
. i usually participate in the 5m or 10km race categories but this time round, i took part in the Shape 2.4km Stroller Fun Run. I had to wake the husband and the kids to pack them out of the house even before the sun is up! Barely 7am in the morning, and here we are, with bright smiles and happy faces.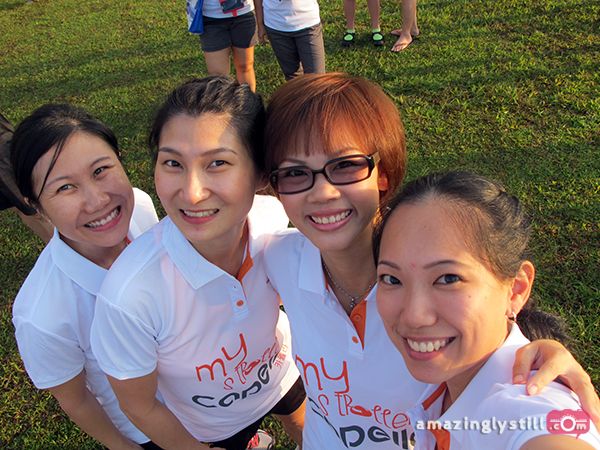 L-R: Lynn, myself, Irene & Mabel at the Shape Run 2013.
The run was originally slated to be on 7 July but was postponed to 27 Oct due to the haze. the 3 months wait was quite a pain because i was so looking forward to running with 9 other mummies and our Capella strollers! it's also the first time i take part in a race together with so many people that i know!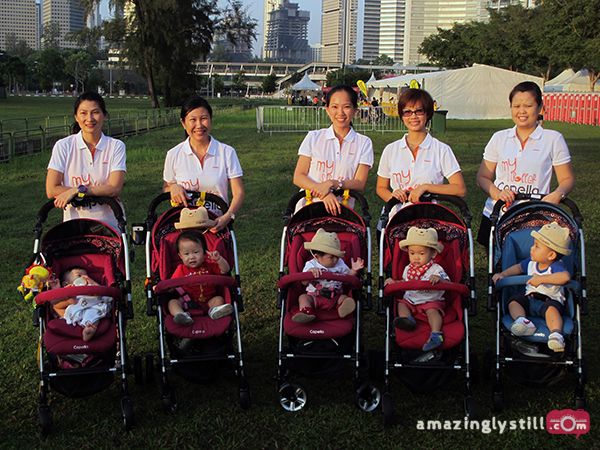 camwhore while waiting for the rest of the mummies to reach that morning.
Don't we look synchronized with all our strollers?
Possibly, the most chillax baby that day. Not a nary of a fuss from my chubs. *loves*
And we are all READY for the dash!
Irene & me at the starting line! (James obviously eyeing all the toys i have on the capella stroller)
me looking super tired and running my last km.


Honestly, i do feel the 2.4km fun run is too long for it to be fun with a stroller and a potentially crying baby! I saw so many mummies pacifying their babies during the run, carry their crying bubs in one hand and pushing the stroller in another. Quite a feat and i must say kudos to those mums. Jerome was totally not fussing and he had his leg propped up on the handle bar 90% of the time, watching his little windmill spin while mum runs her arse off. In preparation for the race, i had some windmills attached to the stroller to keep him entertained and i guess its a good trick because the kids seemed to be fascinated with my windmills as they spin. I also can't be more thankful because i was one of those lucky mummies who didnt have a fussing baby at the end of the race

I love that the organizers prepped balloons for all the mummies and it made the run quite fun and the kids all loved the balloons flying about. I had to keep pushing them out of my face while i ran though. Blame myself for being greedy and grabbed more balloons than i could handle. haha!


I wasn't feel well that day, was spotting a slight fever the night before and was coughing quite badly but was this was too rare an opportunity to be missed so i pushed on in the race. Although 2.4km isnt all that long a distance, running with a stroller is really not easy! It's somewhat challenging somehow as compared when im running alone and requires a bit of a strength to cart a 10kg baby along up and down the slopes. Good thing that the Capella Stroller was quite easy to navigate and turn corners and it made things a lot easier. The one handle bar also helps when i can use one hand to push the stroller along during the run and switch hands when i am feeling tired. I didn't had any issues with the stroller during the run and was glad that it made a good jogging companion. I only wished i was more fit to finish the race faster.

Exhilaration when i cross the finishing line. *punch fist in air*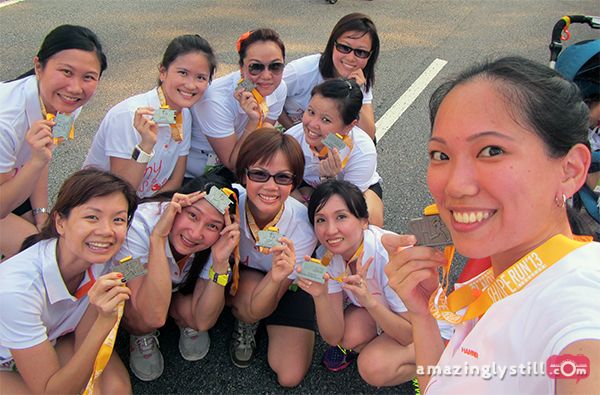 10 proud mummies with our Shape Stroller Fun Run medals! *YAY*
(and yes, selfie too! by the ever professional selfie Mabel)
Thank you
Taime
for the generosity in gifting us a stroller for the run and the opportunity to join a race with 9 other mummies. it's quite an experience and i really enjoyed myself!
Disclaimer: I received a Capella Cony S230T stroller for review & race purpose. All opinions and thoughts are my own. Pictures credit to Mabel of Amazinglystill unless otherwise stated.